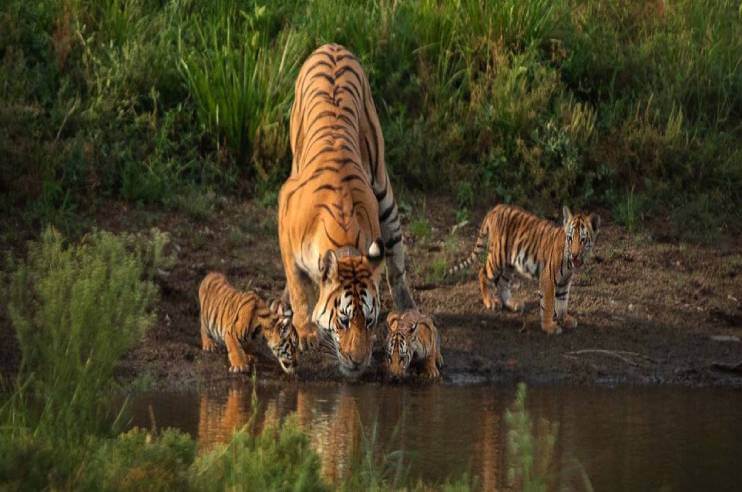 02 Jul, 2022
Viral Video Shows Tigress Moving in Pench Tiger Reserve with her Newborn Four Cubs
A video has been making rounds on social media platforms showing a tigress along with her four newborn cubs crossing a road in the Karmajhiri area of Pench Tiger Reserve, Madhya Pradesh. This certainly comes as good news for the Forest Department, as well as National Tiger Conservation Authority (NTCA), who are trying their best to save our national animal.
The viral Pench National Park video was shot and shared by tourists while spotting the big cat on their tiger safari. The deputy director of the national park, Rajneesh Singh also confirmed the news. He said that the identification or the code number of the tigress is yet to be confirmed, the cubs seem to be aged one and a half months old. The authority of the park reportedly tightens up the security and surveillance to save the cubs at Pench Tiger Reserve from all the illegal activities.
The Pench Tiger Reserve video has been already shared among the wildlife enthusiasts of our country and they are definitely excited to plan a tiger sightseeing tour in the upcoming season. It will surely help in promoting wildlife tourism in Pench National Park.
Pench National Park Viral Video was shot at the Karmajhiri area, which is a part of Pench Tiger Reserve. The tiger reserve is an important part of the national park, which was established in 1975. The whole national park spans an area of 758 square kilometres, surrounded by green teak forests and small hills of Satpura Range, derived its name from the Pench River. Till now, the park is home to around 40 Royal Bengal Tigers, chital, nilgai, sambar, wild boar, sloth bear, Indian leopard and many more mammals, reptiles and amphibians.
November to February is the perfect time to plan a Pench National Park Wildlife Tour, as the weather remains pleasant and spotting wildlife becomes easier.
Pench National Park Social Media News Update.
Thumbnail/Feature used for Representational purpose only.
You May Also Like to Read
Popular Posts
---
Follow Us
---
Recent Posts
---