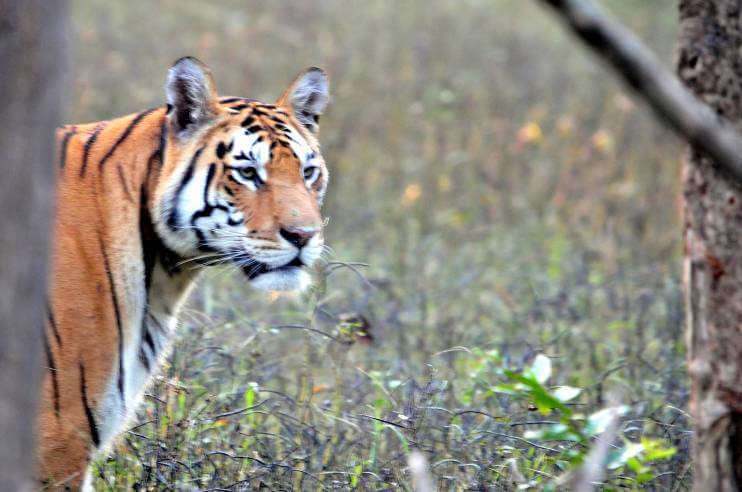 15 Dec, 2021
Top Things to Consider While Booking a Wildlife Safari for Pench National Park
A traveler looking for a great wildlife destination must have come across Pench National Park as it is one of the most visited National Parks in India. It is a place where your imagination runs wild. Even the British novelist Rudyard Kipling could resist using this jungle as his novel's background. Rudyard Kipling's novel Jungle Book's lifelike characters must have wondered about the breathtaking charm and soothing vibes of this enchanting wilderness. The majestic Royal Bengal Tiger is the center of attraction here. Tourists from all across the globe love to visit Pench National Park for Tiger sightings.
Here's what we have to say
–
Behind every successful holiday trip there is proper planning and management by the travelers and tourist agencies. If the proper planning is there then the activities of the journey become interesting. It is very important to keep everything ready when you are planning a trip to any wildlife destination; from accommodation, Safari Booking to adventure activities to avoid last minute rush.
What's confusing –
The most confusing thing for travelers when it comes to planning a trip to Wildlife destination is Tiger Safari Booking. In this blog we will guide you about some of the most essential things to consider when you are planning a trip to one of the most popular wildlife destinations - Pench National Park.
Note- Pench National Park Safari Booking Contact No - +91- 9212777223
Essential Things to Consider for Pench National Park Wildlife Safari Booking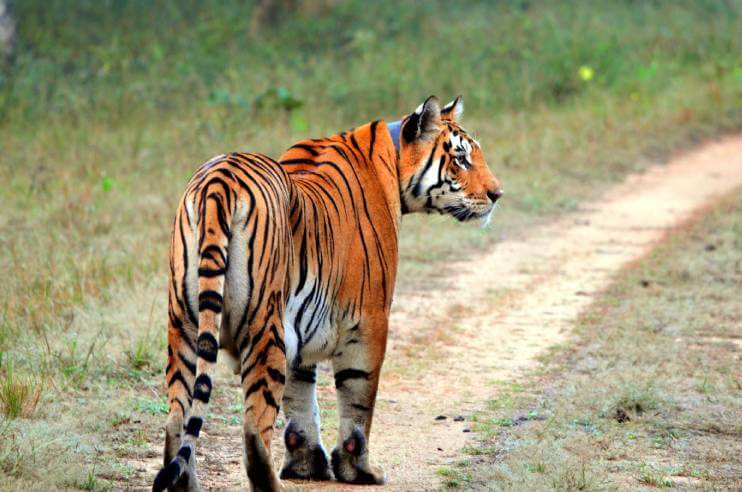 For booking Pench National Park Tiger Safari you need to provide all the necessary details in the registration form. The details would include your name, your identity details like (Aadhar Card, PAN Card, Voter ID, Driving License, Govt. Employee Card, Passport or Student ID). you will also need it to show to the forest officials at the entry point.
In online Safari booking for Pench National Park, you can select your zones but the allotment of zones is regulated by forest officials.
The information must be correct otherwise the booking will be canceled. If you are a foreign national you must mention your valid Passport details during the time of registration and carry the same id proof during the time of Safari ride.
If you are planning a trip to Pench National Park then you must book your Wildlife safari online in advance.  The official portal of the MP government.
You can also register your online Pench Safari Booking with www.penchnationalpark.com and we will give you all the assistance required to enjoy a great wildlife tour.
Pench National Park Safari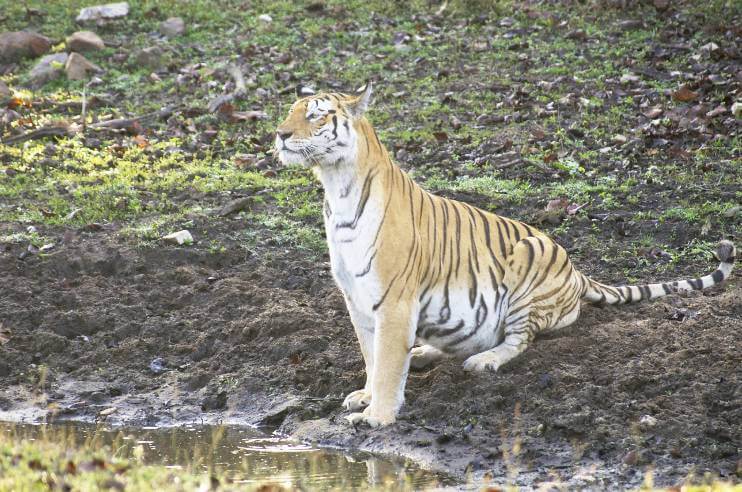 The amazing Pench National Park offers varieties of soulful vistas of wild creatures and mesmerizing landscapes decked with gorgeous floral species. The best way to explore this vast treasure of nature is Tiger Jeep Safari. Which will take you to an enchanting jungle trail to explore wild creatures, floras and amazing picturesque landscapes. An open Jeep Safari in Pench is the best thing you can do to taste the pleasure of thrill and excitement.
Best Time to Visit
- 15th October to 30th June
Pench Safari Timings for Winter Months
Morning - 7:30am to 10:30am
Evening - 3:00 to 5:30pm
Pench Safari Timings for Summer Months
Morning - 6:00am to 9:00am
Evening- 4:00pm to 6:30pm
Pench National Park Safari Types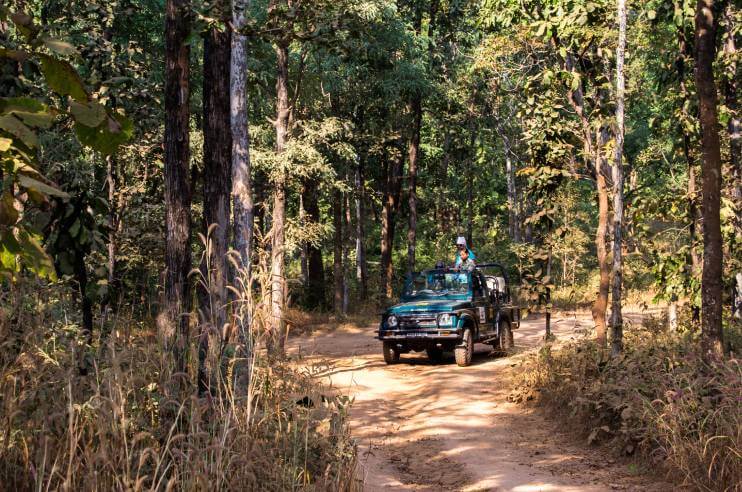 Jeep Safari- Pench National Park conducts a full day and half day Jeep safari depending on your choice and interest. Normal Safaris would include morning shift and afternoon shift for which the jeeps are booked in advance. Full day Jeep Safari would enable you to see all the zones in one single day but it is only allowed if you take special permission from the field director.
Night Safari - Night Safari in the Wolf Sanctuary zone of Pench offers the most enchanting views of nocturnal creatures. No other zones of Pench are available after dusk. Night Safari is not allowed in the Maharashtra zone of Pench.
Elephant Safari - It is one of the best things to do in Pench National Park but it is only allowed in the Maharashtra side of Pench. It enables you to embrace nature and the wild from close. You will also be able to go deeper in the jungle where a jeep is unable to lead you.
Canter Safari- Canter Safari is also one of the most convenient options to do jungle safari in Pench National Park. From Turia gate you will be able to avail this facility. If the tourist is more than eight then only you will be able to get Canter. It also has some limitations like pre-decided routes, no access to difficult trails, no access to marshy areas. It is only available for the core zones.
Pench National Park Safari Zones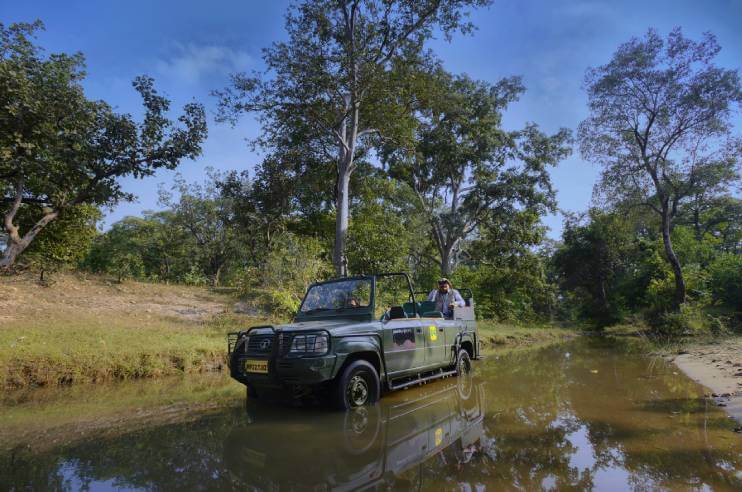 Pench National Park has three core tourist Zones: Turia, Karmajhiri and Jamtara and the buffer zones are Wolf Sanctuary, Teliya and Rukhad zone.
The Maharashtra Part of Pench has 7 entry gates among which Sillari and Khursapar gates are very popular zones of Pench National Park for tiger sightings.
Top Things to See and Do in Pench National Park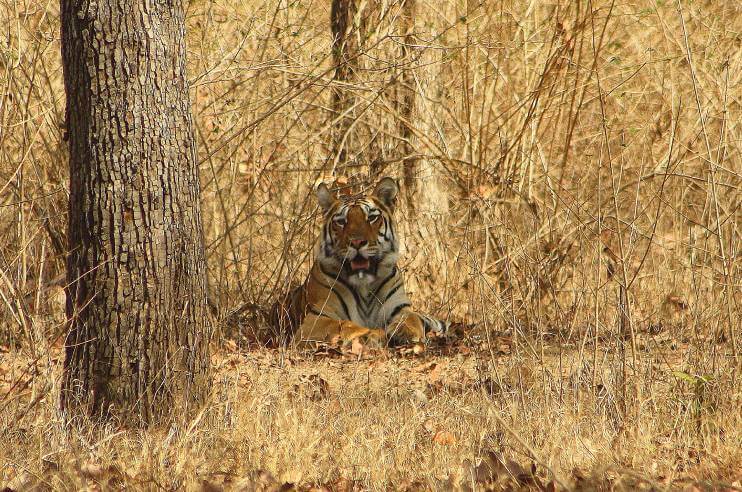 Teak, mahua, tendu, and scaly-barked saja trees, tamarind trees, dense canopies, and meadows of Alikatta Village, Billerica, Terminalia Chebula, Dhaoda or Axle Wood. Jamun will delight your mind and soul.
Pench River surrounded with peacocks, cormorants and egrets- a heaven for bird watchers.
Tigers, big jungle cats, langurs, racket -tailed drongos, sloth bears, Leopards, Gaur, Nilgai, Indian Bison, wild dog, sambar, cheetal are some of the most prominent wild creatures to see in Pench National Park.
Runi Jhuni Walking Trail inside Pench National Park will offer the spectacular vistas of nature and wildlife.
Cycling at Rukhad Sanctuary is one of the best things to do inPench National Park. You will be able to witness amazing wild creatures like Gaurs, Tigers, Leopards and Bears.
The surreal landscapes of nature, the sound of the wild, the forever flourishing floral species, mysteries of the woods; there are many things to see and feel. Ready your binoculars to explore the beauty of one of the best National Parks in India, Pench National Park. From birdwatchers, adventure seekers, photographers, nature lovers, honeymooners to wildlife enthusiasts, Pench National Park has been luring all to get enchanted with its breathtaking charm.  After reading this blog, are you still not planning to explore Pench National Park?
Explore Popular Pench Wildlife Tour Packages
Frequently Asked Questions(FAQ)
How to book an online safari for Pench Tiger National Park?
You can book your Pench National Park Safari online with www.penchnationalpark.com. We provide best deals and discounts with all the facilities required for wildlife holidays. Booking with us is always a hassle-free affair.
When Pench National Park Opens for Jungle Safari Experience?
Pench National Park opens from October 15th and closes on 30th June.
Does Pench National Park remain open in Monsoon Season?
It is not available for wildlife tourism during Monsoon. It is the breeding season for animals.
What are the safari timings for Pench Tiger Reserve?
Pench Safari Timings
In Winter Months- 7:30am to 10:30am (Morning Safari) & - 3:00 to 5:30pm (Evening Safari)
In Summer Months- 6:00am to 9:00am (Morning Safari) & 4:00pm to 6:30pm (Evening Safari)
What are the top destinations to visit near Pench Tiger Reserve?
Bhedaghat
Sanchi
Kanha National Park
Pachmarhi
Tribal bazaars
Khekranala
Lonar
Ramtek
Does Pench National Park offer Night safari?
Yes, the buffer area - Wolf Sanctuary offers Night Safari in Pench. It is the only zone which offers night safari in Pench. The Maharashtra part of Pench does not offer night Safari.
Also Read
Popular Posts
---
Follow Us
---
Recent Posts
---