History of Pench National Park
Pench National Park is located in the heart of India- Madhya Pradesh and covers a total area of 758 sq.km. It is located on the southern part of Madhya Pradesh, to be specific, in the districts of Seoni and Chhindwara, which also shares a boundary with Maharashtra. An additional area of 257 sq.km of this park lies in Maharashtra but is also accessible from Madhya Pradesh. A treasure of rich flora and fauna, this national park has its area segregated in two divisions- a) Priyadarshini National Park and Mowgli Pench Sanctuary which covers an area of 299 sq.km and b) 464 sq.km which is considered as the buffer area. The national park is named after the river- Pench, which while flowing from north to south, divides the national park in almost equal halves namely eastern and western halves. The park is just not home to wildlife but also to humans. There are 10 villages in and around the park out of which one is inside the park named Fulzari and other nine on the periphery.
Not always a national park, Pench was declared as a sanctuary in 1965 but in 1975, it rose to the status of a National Park. And since it is home to a huge amount of tigers, it was established as a tiger reserve in 1992 and now is working under Project Tiger. Also the beauty of this place has been mentioned in the classic " The Jungle Book" by the great Rudyard Kipling.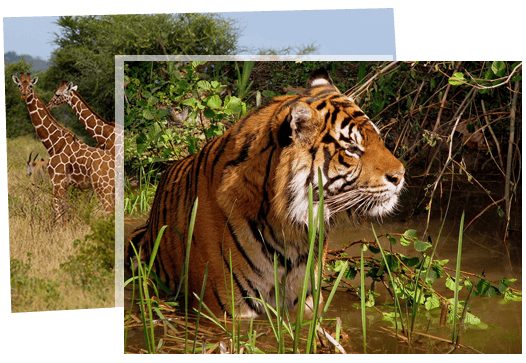 FORESTS AND WILDLIFE
Though Pench National Park looks very similar to the classic tale, it actually is more than that. The national park is home to flora species like Mahua, White Kulu, Salai, Saja, Bijiyasal, Dhaora, Amaltas and many other. Apart from trees, the park is filled with grasslands, plants and saplings.
Pench National Park is a residence of a great variety of wildlife. The place is an abode of real Sher Khans (Bengal Tigers) accompanied by Chital, Jungle Cat, Wolf, Indian Leopard, Gaur, Four-horned Antelope, Sloth Bear and many other wildlife. Also a great variety of birds like Crow Pheasant, Peafowl, Pintail, Lesser Whistling Teal, Indian Roller, Wagtail, Munia, Waterfowl, Blue Kingfisher, Crimson-Breasted Barbet, Red-Vented Bulbul are found here.