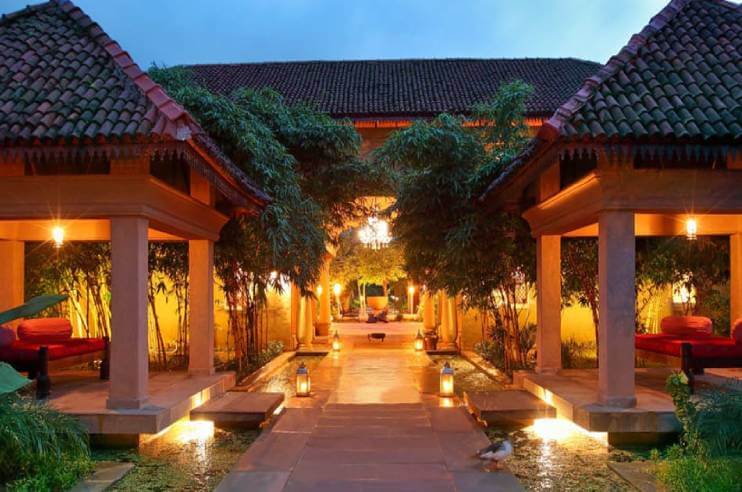 02 Dec, 2021
Best Top-Rated Places to Stay in Pench National Park
Wildlife Enthusiasts can never miss the breathtaking landscapes and exotic wildlife of Madhya Pradesh and when it comes to Pench National Park, there is no chance that any nature lover or wildlife lover would miss this beautiful piece of wilderness from their list of best wildlife destinations to visit in India.
From all across the world tourists visit Pench National Park to explore the enchanting wilderness and thrilling wildlife sightings to make beautiful wildlife memories for lifetime. But do you think that it would be possible to enjoy all this without taking shelter in a relaxing and luxurious place? Absolutely not. Behind every amazing wildlife holiday there is a great assistance of beautiful and comforting accommodation that makes the wildlife trip the most pleasurable one.
Picking the right accommodation becomes absolutely important to enjoy the thrill of wildlife and bliss of nature. While planning a trip to Pench National Park, you will also need to book the finest stay places to make your trip memorable. Staying at good places always brings good experience and it upgrades the travel experience of a traveler.
Here is a beautiful list of top-rated Places to stay in Pench National Park for the most delightful wildlife trip of your life -
Tuli Tiger Corridor Resort
Pench Jungle Camp
Baghvan Wildlife Resort
Mahua Vann Resort
Tiger Valley Resort
Jungle Home Pench
Village Resort
Tiger N Wood Resort
Nagzira Nature Camp
Pench Tree Lodge
Nagzira Tiger Resort
Woods Heaven Nagzira
Tuli Tiger Corridor Resort - Beautiful Luxurious Jungle Camp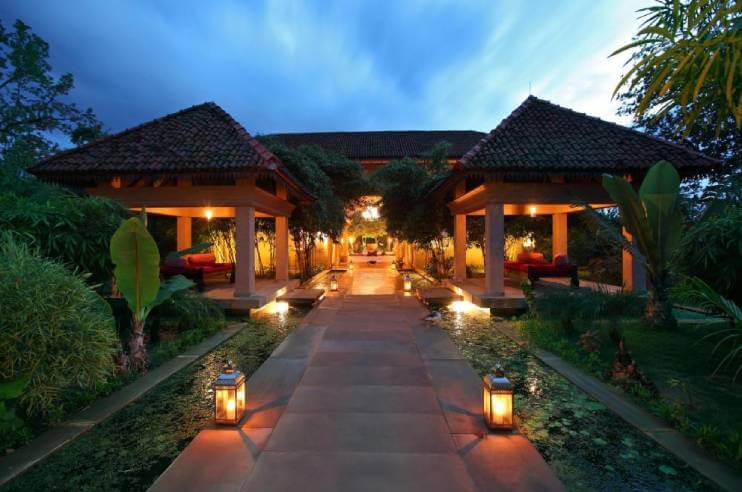 If you love luxurious and comfortable stay then there is no better place than Tuli Tiger Corridor Resort which is located at the buffer zone of Pench National Park. Exotic wildlife of Pench National Park can surely delight anyone's senses but enjoying wildlife while living in one of the best luxurious resorts of Pench National Park would definitely elevate your wildlife holiday experience to another level.
The beautiful setting of wilderness loaded with all the comforts equivalent to international standards is a soul pleaser. There are varieties of stay options depending on the needs of travelers and each stay option would provide you the bliss of adoring the stunning vistas of nature. The ethnic design of the luxurious tents and the pastoral jungle theme of Tuli Tiger Corridor Resort makes it a perfect place to enjoy amazing wildlife holidays and a leisurely time with your loved ones.
Best Facilities and Experiences
Private Dining Lounge with a jungle view
Mini Bar and large outdoor deck
Outdoor Swimming Pool with a barbeque facility
Playground area for kids
Pench Jungle Camp - the Bliss of the Wild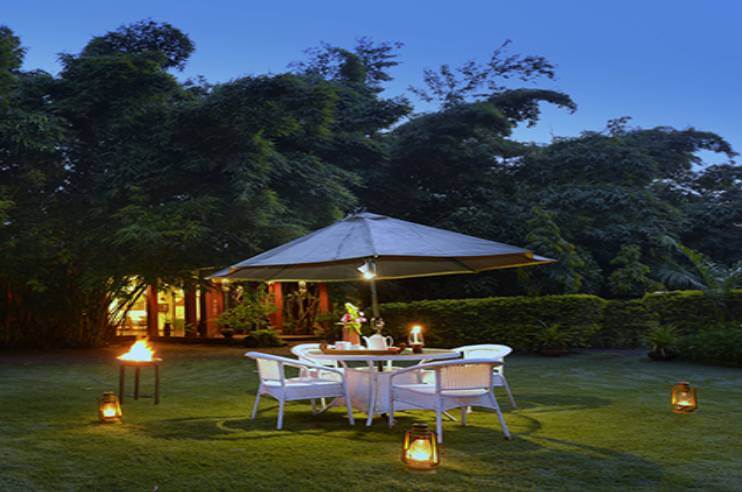 Located 1km away from Turia Gate of Pench National Park. You will be mesmerized by the lush greenery, stunning lawns and unspoiled picturesque landscape which is set in 50 acres. It is one of the best places to stay in Pench National Park. The jungle camp offers the best stay experience along with guiding and hosting facilities to ensure best guest experience and wonderful wildlife holidays in Pench National Park. In terms of luxury and comforts its facilities are unparalleled in comparison to other hotels and resorts of Pench National Park. While staying here you will wake up to the gorgeous vistas of wilderness and feel the soothing calmness of pristine nature all around. It's really an ideal retreat to escape in secluded serenity to refresh your mind. From Standard Safari Rooms, Deluxe Safari Cottages, Safari Tents to amazing Family tents, there are varieties of stay options to enjoy the luxuries and comforts and that too on budget. It is indeed the best choice and best stay option if you are planning a wildlife holiday at Pench Tiger Reserve.
Best Facilities and Experiences
Bush Dinner - Private Dinner facility amidst the wilderness
Bonfire and barbeque stations
Romantic Candlelight meals
Outdoor Swimming Pool
Gift Shop
Spa Treatments in the middle of the jungle and a small Library
Baghvan Wildlife Resort - Garden of Tigers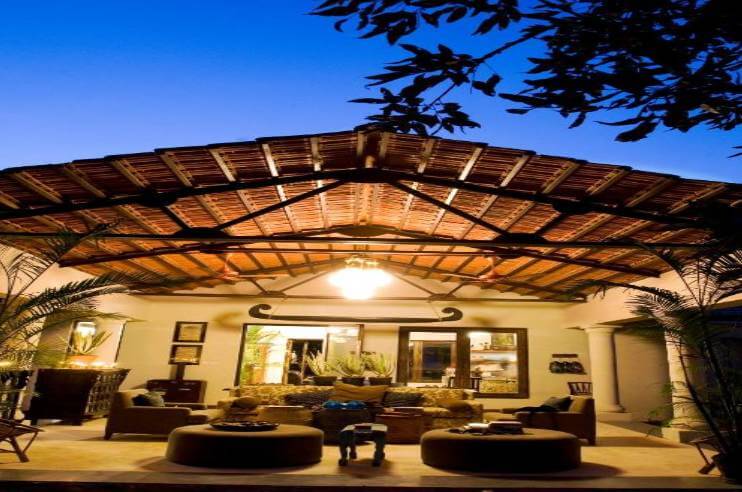 Baghvan Wildlife Resort is one of the most popular and best wildlife accommodations in Pench National Park. Baghvan the name is taken from Bagh- Tiger and Van- garden which signifies Garden of Tigers. Equipped with all the comforts and luxuries that a traveler in search of peace craves for. If you want to feel the closeness of the pristine nature and spend a luxurious wildlife holiday in Pench then Baghvan Wildlife Resort is a perfect accommodation to seduce your senses. Even after you have left this amazing piece of serenity, the soothing vistas and peaceful ambience of this place would always remain fresh in your memory. Depending on your budget and choice, the resort offers great stay facilities to the tourists.
Best Facilities and Experiences
Indoor and Outdoor Shower
Machaan, a rooftop space for a romantic night
Cuisines of Vidarbha Region
Souvenir shops
Currency Exchange Service
Indoor Swimming Pool
Mahua Vann Resort - Sweet Handmade Resort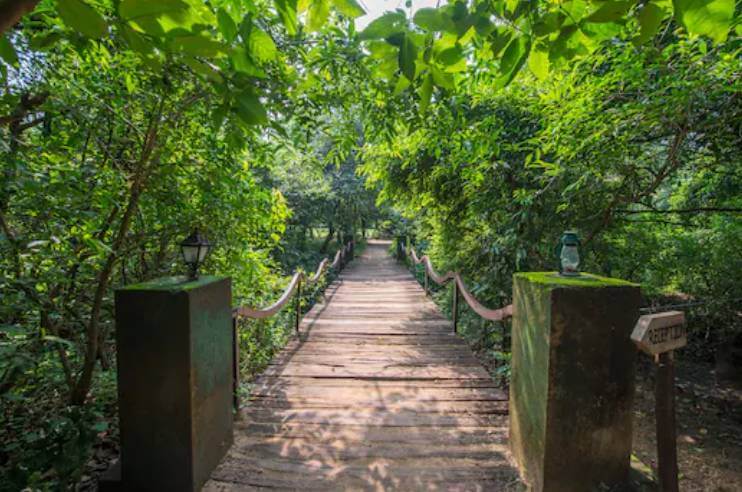 In Pench National Park, the Mahua Vann Resort has a very unique and pleasant vibe. If you step here, you will be in a different world. The fresh tint of the green trees all around, amazing weather and all the comforts of happy living will rejuvenate your mind. It would be a perfect escape into the bliss of nature.
The soul pleasing setting and the luxuries would enable you to spend a lavishing wildlife holiday amidst the breathtaking wilderness of Pench National Park. The rooms are modern yet traditional. It is designed to suit diverse tastes. The cottages are environmentally friendly and go well with the ambiance of the forest. The most interesting fact about this resort is that it is handmade and the design and decorations would give you the feel of a home-like setting. Mud painted walls, indigenous flora and fauna and wisely chosen saplings look so gorgeous that you can't set your eyes away. The setting in which the resort is situated looks more stunning as the mesmerizing river Nullah flows along the side of the resort and forms a beautiful Sangam point towards one end where you can enjoy barbeques and bonfires. It is one of the best resorts to stay in Pench.
Best Facilities and Experiences
Interesting furniture pieces and handmade designs is the main Highlight of Mahua Vann Resort
Open showers with overhanging trees
Sit Outs and decks with river view
Open sleeping area and sleeping under the Machans
Library
Air-Conditioned Conference Hall
Open Dining Space and Riverview candle night dining setting
Spa
WelcomHeritage Jungle Home Pench- Surreal Ambiance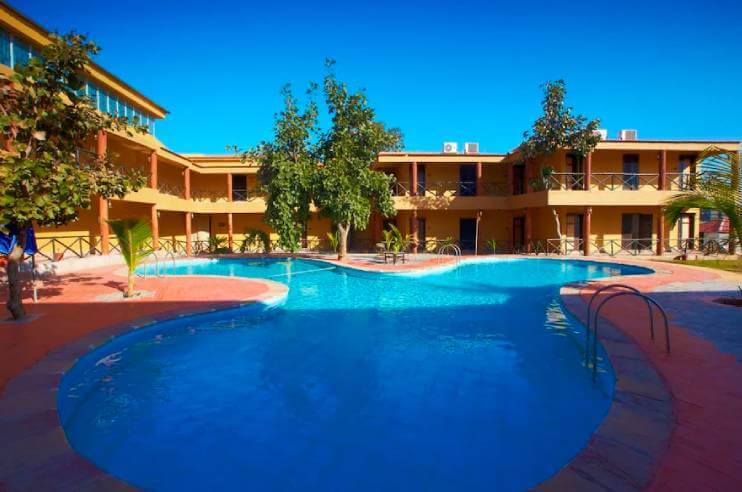 Situated amidst the dense forests of Pench Tiger Reserve, the magnificent WelcomHeritage Jungle Home Pench Resort beautifies the surrounding remote wilderness. It is visually very appealing that you will not be able to resist yourself to fall for its charm.
The deluxe rooms and family suits are equipped with all the modern facilities and amenities that a traveler needs. Imagine yourself sitting amidst the serene nature while enjoying all the comforts and luxuries, it would definitely be a relaxing and refreshing holiday to fine tune your spirit.
The resort resounds in the calls of sweet chirping of birds and the colorful butterflies all around will be a delightful view. The sculpted garden would lure a photographer to click amazing pictures. Travelers can also enjoy a day Safari and recreation activities to enjoy your wildlife vacation.
Best Facilities and Experiences
Amazing Excursions
Fine Dining Restaurant
Recreation and Gaming Zone
Campfire
Mini Bar
Spa
Village Resort - Rustic Charm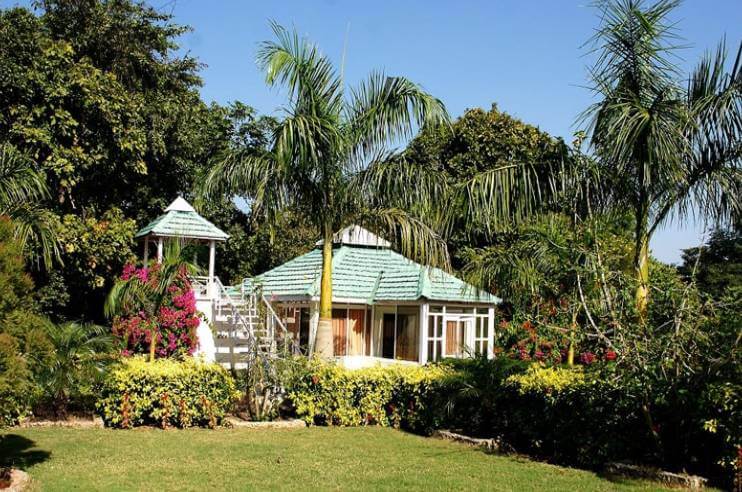 You will completely become one with nature if you are in Village Resort in Pench National Park. The facilities of this environmentally friendly resort are to be enjoyed once in a lifetime as it plays a vital role in the conservation of wildlife and educating students and individuals about the cleanliness of the environment and protection of wildlife.
It is located in the buffer zone of Pench National Park.  Surrounded by lush green forests, the setting of the resort resembles the setting of Rudyard Kipling's Jungle Book. this resort's beauty will blow your breath away. The scenic glass cottages, exotic honeymoon cottages to enjoy the best honeymoon, especially abled cottage, Machaans, secluded lawns, amazing natural vistas, gushing river as the backdrop will leave you in a beautiful trance from which you will never be able to escape. Come here once and leave your heart here forever as you will not be able to take it back. It is one of the most beautiful and best resorts to stay in Pench National Park.
Best Facilities and Experiences
Swimming Pool with manicured lawns and Gazebo
Badminton, Cricket and Basketball courts
Plant Nursery
In- house restaurants
Nature Trail, Jungle Safari, Night Safari and Bird watching
Mini Theatre
Library
Tiger N Wood Resort - Amidst the enchanting woods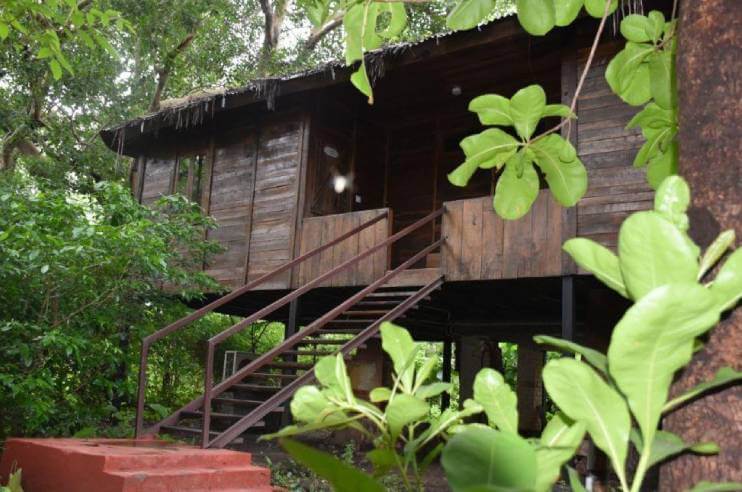 If you want to upgrade and enrich your wildlife experience then you must head to Tiger N Wood Resort in Pench National Park.  Not only it is one of the best stay options in Pench National Park but also it is the most gorgeous resort in Madhya Pradesh.
Also, it is the oldest resort inPench National Park. It is situated in the buffer zone of Pench National Park. It has 10 machan' style log cabins with huge balconies that open up to the jungle which will unveil a memorable experience of wildlife holidays in Pench for sure. Located close to Turia and Khursapar Gate which are the best entry points to the verdant forests due to high chance of tiger sighting.
The sights and sounds unfurl their rustic aspect and the peaceful and pleasant ambiance of the resort would enable you to enjoy peaceful and relaxing wildlife holidays at Pench.
Best Facilities and Experiences
Indian Restaurant
Play Area
Swimming Pool
Bon-fire
Karaoke
Desi Massage on call
Souvenir Shop
Library
Bicycle on rent
Nagzira Nature Camp - Nature is calling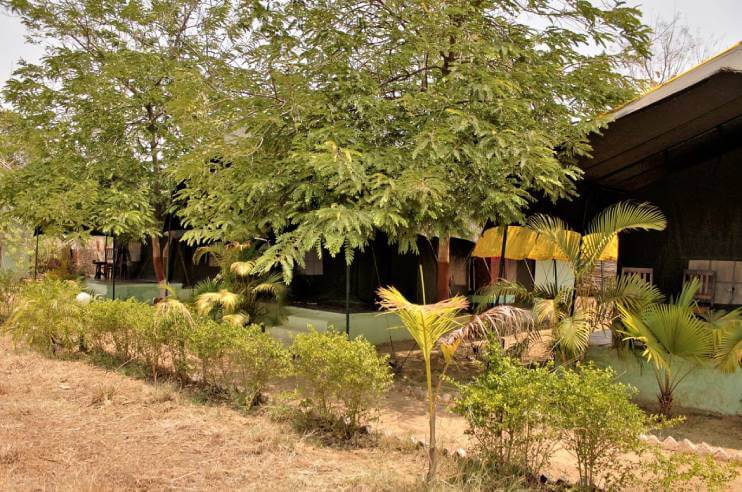 Hear the calls of Tiger, Leopard, Wild dogs, 200 species of birds and many other endangered species from this amazing place for nature lovers and wildlife enthusiasts. The stay here will be full of surprises. It is one of the best luxuries stay options in the state of Maharashtra. Amidst the picturesque landscapes teeming with rich wildlife and lush vegetation, this nature camp will give you the real thrill of living in the wilderness. It has all the facilities and amenities that could blow your mind. Combined with the adventures of jungle and pleasure of nature, it is one of the best stay options for a great leisure wildlife holiday. Away from the noise of cities, it is an incredible escape for the tourists who want a peaceful retreat to rejuvenate and relax their tired mind and body. The wild realm of Nagzira will be in front of your eyes and it will be a mind-boggling experience.
Best Facilities and Experiences
Amazing Wildlife packages
Recreation activities
Indian Food
Rooms with beautiful Nagzira River View
Rooms with lake and mountain view
Badminton Court
Bonfire Area
Nature Walk
AC Luxury Tents
Private Sit-out
Multi-Cuisine Restaurant
Pench Tree Lodge - Vintage Setting with awesome views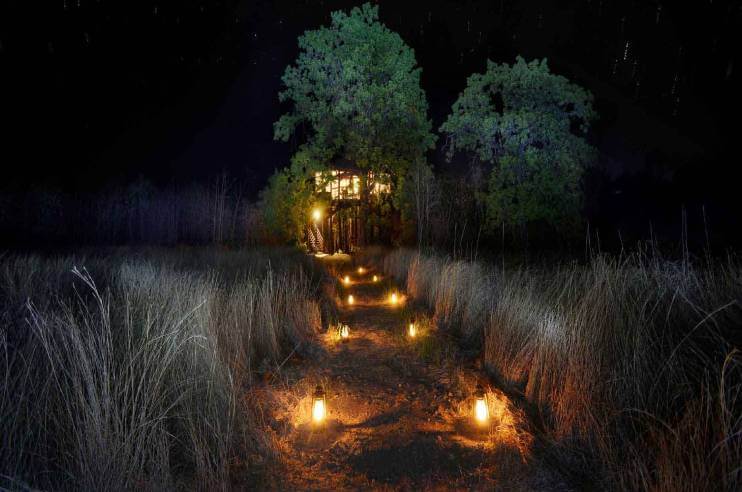 Thrilling wildlife holidays in Pench will be the best if you book Pench Tree Lodge. These 40 acres of nature heaven will surely delight your soul. Equipped with all the modern amenities and luxuries along with a host of adventure activities like night trails, cycling, village walks etc. will make your day here exciting and full of fun. It has 12 elegant tree houses and cottages wonderfully decorated with local handicrafts and unique safari style furniture.
The large French windows would give exquisite views of the enchanting forest. You will be able to spot wild animals like wild boars, civets, jungle cats, jackals, birds and many butterflies from far. The rooms are a beautiful combination of vintage and natural aesthetics. It is indeed the most popular and top-rated resort to stay in Pench National Park.
Best Facilities and Experiences
Tree houses and Cottages with a good Jungle view that one can even spot wild animals
Tea and Coffee Pantry
Organic Toiletries
Organic Garden
Night Trails
Cycling
Jeep safaris
Bush Dinner
Nagzira Tiger Resort, Chorkhamara - Sublime and Peaceful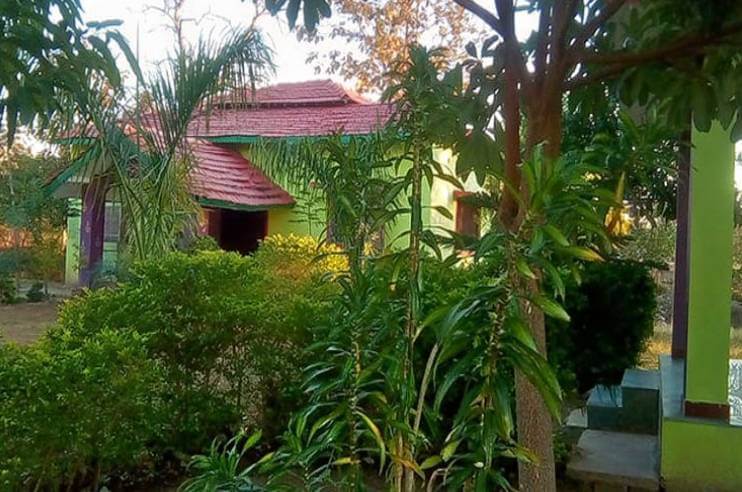 Another most peaceful and visually appealing Resort in Nagzira Wildlife Sanctuary is Nagzira Tiger Resort which will definitely tickle a traveler's soul.  Thrill of wildlife sighting, serenity of nature and full of leisure and comforts would overpower your senses and rejuvenate your mind. Rooms are well equipped with all the comforts and luxuries which are according to the diverse taste and preferences of the tourists. The stunning views of the village and the jungle with sweet chirping of birds will teleport you into a world of euphoria. The recreation activities, amazing food, nature walks and warm hospitality of the staff would compel you to come here again and again.
Best Facilities and Experiences
Delicious Indian Food
Nature Walks
Recreation Activities
Rooms with forest and Village view
Woods Heaven Nagzira - Small Heaven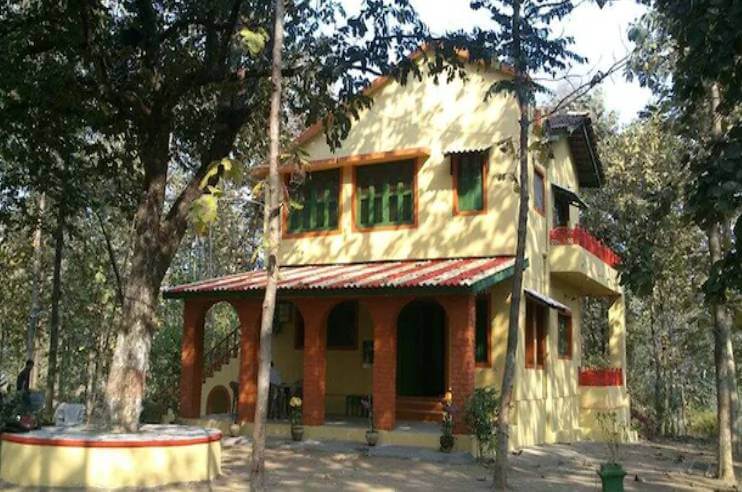 If you want to spend a peaceful and lovely weekend with your family and friends then choose Woods Heaven Nagzira. Located very close to Nagzira forest, its ambiance will make you feel wild as your energy will sync with the wild nature of the forest. Woods Heaven the name is apt as it is really a heavenly paradise for nature lovers and solace seekers. It is a 2 acres property surrounded by lush green forests. From your room you will hear the sweet calls of Grey Malabar hornbill, Barbets, Orioles, woodpeckers, brain fever, Indian roller, etc. The scenic walks into the village of Chorkhamara and witness the large lake which is located just 2km away from the resort will be a perfect relaxing retreat for best wildlife holiday.
Best Facilities and Experiences
Stargazing
Village Walks and Tiger Safaris
Indian Food
Kids Play Area
Western Style Bathroom
Local guide
We hope that you would choose one of these places to stay for an amazing wildlife retreat in Pench National Park. All these accommodation options offer perfect stays dipped with beauties of nature, pleasure of leisure and a thrill of wildlife sightings and amazing, adventurous and delightful recreational activities.
If you are investing so much effort and time for planning your Wildlife trip to Pench National Park then booking the best accommodation option is absolutely needed. It will justify your efforts of investing so much time and money for a wildlife trip. Just Make sure you book all your hotels and safaris online in advance and if you face any problem and need any information regarding hotel bookings and Pench Wildlife Tour Packages then call us at +91-9212777223 and we will get back to you as soon as possible.
Frequently Asked Questions(FAQ)
What are the best hotels near Turia Gate of Pench National Park?
Pench Jungle Camp
Village Machaan Resort
Baghvan Pench Wildlife Resort
Tuli Tiger Corridor
Vannraj Resort and Spa
Is there any stay option available at Karmajhiri Zone of Pench National Park?
Yes, only Karmajhiri Forest Department Guest House is available for stay. If it's not available then FRH guesthouse is the alternative option for staying at Karmajhiri zone.
Popular Posts
---
Follow Us
---
Recent Posts
---