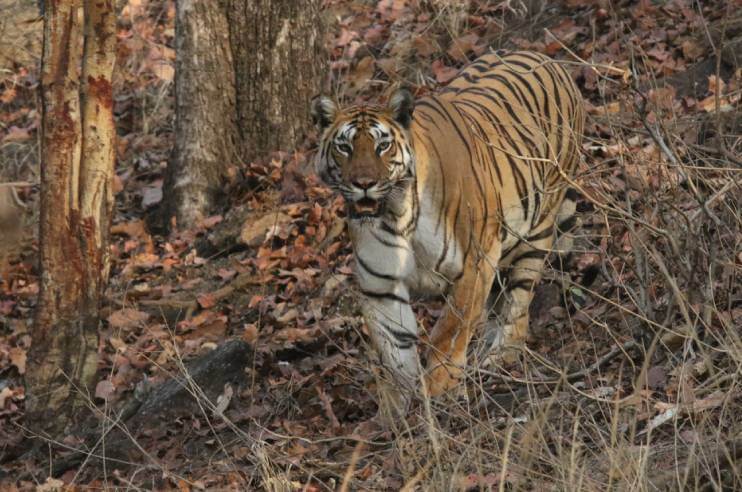 24 Nov, 2021
8 Best Things to Do in Pench National Park
Welcome to the abode of mesmerizing wilderness, Pench National Park. Here the majestic wild creatures reside to make this nature's beautiful piece incredibly unfathomable to humans. We can never have enough of soothing nature. Pench Tiger Reserve is one of the best wildlife destinations to visit in India for wildlife holidays. Nestled in the enchanting foothills of Satpura Hills, it is divided into two parts - One Southern part of Madhya Pradesh and the borders of Maharashtra. It is said that the setting of the Jungle Book by Rudyard Kipling has been imagined in Pench Tiger Reserve.
Feel of the Place
In this natural habitat of wild creatures and exotic floral species you will find a powerful solace. Your existence will be lost in the folds of time. The soothing rhythm of nature and tranquil vibes of the Pench National Park will cease the man-made time and you will be teleported to the setting of the real Jungle Book. You will see the mighty Sher Khan in every Tiger, and Kaa in every snake species. The numerous streams and rivulets leaping from Pench National Park will also blow your heart away. The entire park dances in the sweet and scary calls of the wild creatures. You must not miss this awesome wildlife destination to make some wild friends.
Let's see some of the top 8 activities to do in Pench National Park-
Potter's Village at Pachdhar
Runi Jhuni Nature Walking Trail
Cycling Tour to Rukhad
Visit to Village Haat
Stargazing
Birdwatching
Night Safari
Jungle Safari
Popular Pench Wildlife Tour Packages
Potter's Village at Pachdhar
15km from Turia Gate is the forever enchanting Potter's village which you must not miss if you are enjoying wildlife sightseeing in Pench National Park. It's one of the most popular tourist attractions to see in Pench national Park. Scenic village walks, interactions with tribal village people about their lifestyle and trying hands on pottery and other handicrafts will truly enrich your travel experience in Pench National Park. It is in fact one of the best things to do in Pench National Park.
Approx. 100 households are in the business of making earthen utensils and clay works. Almost every house in their village is painted with white and blue color. They have huge verandas for making earthen wares and clay utensils. The process of making is organic, without any use of mechanical excesses. You can buy souvenirs for yourself as a token of memory. Watching the potter's sit at their wheels making incredible clay works is a sight to behold. A jeep or a cycle ride to Pachdhar Village would be worth it if you want to experience something unique than any normal tourist activities.
Runi Jhuni Nature Walking Trail
Runi Jhuni Nature Walking Trail is one of the best tourist activities in Pench National Park, if you are a type of traveler who wants to enjoy the silence of nature. This enchanting trail starts from Karmajhiri gate which is the most amazing opportunity to observe wildlife and embrace nature from a close distance. The exotic floral and faunal species of the forests is the center of attraction of this nature trail. It will take 1-2 hours to explore the buffer zone of the park. Wild fowls, deers, langurs and varieties of birds will welcome you with their sweet yet notorious gaze. The tickets cost INR3000/-per person.
Cycling Tour to Rukhad
How would you feel if we say that you can enjoy the best wildlife holidays in Pench National Park not in a jeep but in a cycle? Isn't it interesting? Not only is it a unique way to explore wildlife but also one of the top thrilling adventurous activities to do in Pench National Park.
With the fun of cycling amidst the wilderness and the thrill of spotting wild creatures from close, this cycling tour will fill you with delightful vibes. The exotic wildlife, floral species and gorgeous terrains of Rukhad forests which is a buffer zone of Pench National Park is a blissful sight to behold.
This guided cycling tour starts around 8am in the morning and finishes at Sakata Forest Rest House. The journey covers 22km. This ecotourism destination is one of the most popular places to see around Pench National Park which is teeming with exotic wildlife and beauty in abundance. Camping in tents at night here will add more thrill and delight to this trip.
Visit to Village Haat
The local villages of Vijaypani, Badalpar, Khamba and Belpath and weekly Haat bazaars offer unique experiences to the tourists which can never be found anywhere else. Village walking tour around Pench National Park is one of the must do tourist activities if you want to explore and learn about the unique culture and lifestyle of tribal people.   Villages have organic farms which offer organic fruits and fresh veggies to support the Haat. You will also get wide varieties of Indian spices which you can take home if you love to cook. You will be spellbound by the warm hospitality of village people. Some of them might welcome you for a meal or for a little conversation which would give you a glimpse of their culture, traditions, nature and lifestyle. It is one-of-a-kind experiences that will make your wildlife tour in Pench National Park more interesting.
Stargazing
Away from the hustle and bustle of city life, Stargazing at Pench National Park is the best way to relax your soul. It is not possible to observe the beauty of stars at night in the cities as the pollution restricts and blurs our vision to embrace the shining night sky. You can get this chance at Pench Jungle Camp. The stunning milky way from the telescope will overpower your mind and senses. Try it once and you will cherish it as a memory forever. It is one of the best things to do in Pench National Park.
Birdwatching
Pench National Park houses 285 species of resident and migratory birds which would be one of the best ways to enjoy your wildlife holidays here. In a jeep you will be transferred to Khoka lake which is a paradise for bird watchers. The dense jungle all around, mesmerizing sunset, sweet chirpings of birds and flat lands will take you to the wonderland of bliss. You will witness varieties of birds like Indian Pitta, Osprey, Grey-headed Fishing Eagle etc. to soothe your ears.
Night Safari
Spot amazing wild creatures like Jackals, wolves, Nilgai, Spotted Deer, Sambhar deers and nocturnal birds etc. at night in the buffer area of Pench National Park in a Jeep. It is one of the best things to do in Pench National Park. The night Safari is conducted in a Wolf Sanctuary where you will witness a good population of Indian Grey Wolf. The safari only lasts for 2-3 hours but the experience you will get from this tour would be the best experience of your life. You will not be able to book night safari online, it can only be booked at the counter.
Safari Timings
- 6:00pm to 9:00pm
Jungle Safari
The best and the only way to explore the exotic wildlife of Pench National Park is the Wildlife Jungle Safari. It is one of the major tourist activities to do in Pench Tiger Reserve. Sights and sounds of wild creatures in their natural habitat would be an unforgettable experience. Lush palms, hibiscus, araucaria, small rivulets, streams and verdant forests all around would tickle your lens to capture amazing pictures. You will witness varieties of wild animals like Tigers, Jackal, Indian Bison, Jungle cats, leopards, palm civets, Indian civets, Nilgai, Sambhar deer, black bears, peacocks, gaurs, wild dogs etc. to quench your thirst for wildlife exploration.
Gates of Pench National Park
Pench National Park has 7 Gates and all the gates offer best wildlife sightings.
Turia Zone - Famous for tiger and leopard sightings.
Karmajhiri Zone- Known for enormous species of birds, Tiger sightings and wild dogs.
Jamtara Zone - Very popular for sloth bear sightings and Banyan and Shindoori trees.
Rukhad Zone - Buffer area - Very popular for Tiger sightings, Jamun, Bamboo and Arjun Trees, flowing streams, and lots of butterflies.
Wolf Sanctuary - Known as Khawasa Buffer Zone. It is very popular for wolves, foxes and nocturnal birds.
Sillari Zone- Popular for Garari, Bamboo and Teak Trees and it remains closed on Wednesdays.
Khursapar Zone - Popular for Tiger sightings and bird species.
Safari Timings for Pench National Park
Morning - 6:00 am to 11:00 am
Evening- 3:00 pm to 6:00 pm
Best Time to Visit Pench National Park
Winter, which starts from November and ends in February is the best time to visit Pench National Park. The weather will remain pleasant for wildlife sightings and nature walks. During summer (March to June) the weather is harsh which makes sightseeing difficult for the tourists but it's a great time for Tiger sighting as they feel thirsty and come near water bodies to quench their thirst. The Park remains closed during Monsoon (July to September).
Pench National Park is indeed one of the best wildlife tourist destinations to enjoy the best of wildlife tourism in India. The sights and sounds of this natural habitat would definitely teleport you to the world of Jungle book. If you have any query related to Pench National Park Tour Packages and any other information then you can check our website and call us at +91-9212777223.
Frequently Asked Questions(FAQ)
What are the top things to do in Pench National Park other than wildlife sightings?
Camping
Village Walk
Village Haat
Stargazing
Nature photography
Visit to Pachdhar Potter's Village
Boating at Pench River
What are the best places to stay in Pench National Park?
Pench Tree Lodge
Tiger N Woods Resort
Pench Jungle Camp Resort
Mahua Vann Resort
Village Machaan Resort
Tiger Valley Resort
How to book Pench Wildlife Safari?
You can call us at +91-9212777223 or fill-up enquiry form for all your queries and bookings related to Pench National Park. You have to book your wildlife Safari in advance.
What are the essential travel tips to follow for Wildlife Safari in Pench National Park?
You must book your wildlife Safari and hotel online in advance.
ID cards will be needed during the time of Safari booking and actual wildlife safari area.
Wear comfortable walking shoes and clothes that go well with the natural surroundings like earthy green clothes. Don't wear shiny clothes.
Carry proper woolen clothes if you are planning to visit Pench National Park in Winters.
You must have caps, hats, sunscreen if you are planning a Pench National Park Safari trip in Summer.
What are the prominent Floral and faunal species of Pench National Park?
Flora - Mahua trees, Palash trees, Teak trees, Neem, shrubs, fruit trees, Sal Trees.
Fauna - Royal Bengal Tigers, Wolfs, Jackals, Gaur, Four-horned Antelope, Sloth Bear, Sāmbhar Deer, Leopards, black bears etc.
Popular Posts
---
Follow Us
---
Recent Posts
---