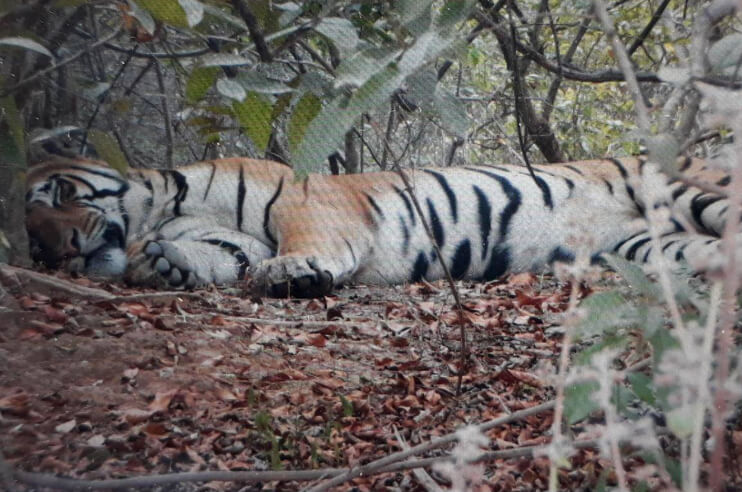 13 Dec, 2018
Another One to The Tally: Sub-Adult Tiger Electrocuted in Maharashtra
A sub-adult tiger was electrocuted in a farm near the Tadoba-Andhari Tiger Reserve in Chandrapur District in Maharashtra. The incident happened on Saturday 8 December around 10 pm near a farm in Bhamdeli Village in the buffer zone of the Tadoba-Andhari Tiger Reserve.
In Case You Didn't Know
The latest incident of a tiger death comes days after an RTI response revealed that 384 tigers have died in the last 10 years in India. Maharashtra has been in limelight for the rising cases of tiger-related incidents with the killing of tigress Avni triggering nationwide protests.
The Heart of Matter
A sub-adult tiger wandered into the buffer zone of Moharli when it was electrocuted by the electric wires around a farm in the Chandrapur district. The incident happened on the 9th of December and it was reported on 10th. The post-mortem concluded that it was electrocuted somewhere around midnight.
The owner of the farm has been arrested as using electric barbed wires are prohibited. Gajendra Narwane, Deputy Conservator of the forest confirmed the news and he said that the Forest Department was probing into the matter.
However, this isn't the first case of tiger wandering in the buffer zone or the local villages. The buffer zone is the vacant space between a National Park or reserve and the local villages. The extra vacant serves as an additional measure to ensure that wild animals don't wander into the local villages. There has been a constant rise in human-tiger conflicts, often ending fatally.
Many factors are attributed to rising tiger-human conflicts. Big cats need a big territory of land and many often wander to other parts of the reserves seeking a new territory. The other factor is decreasing preys in the tiger reserves because of which many migrate to local villages in search of domestic animals. The uneven distribution of tiger population also plays a major role alongside the shrinking forest covers. Many cases have come to light pertaining to tigers mauling local villagers and villagers killing the tiger.
While Forest officials seek a solution to this problem, a major hurdle to tiger conservation is that forest officials rely on local villagers for cooperation and help in keeping track of tigers. The increasing altercations would harm the tiger population in the long run.
What Lies Ahead?
The owner of the farm has been arrested and the Forest officials are following the legal procedures regarding the death of the sub-adult tiger. The forest officials need to figure out a way to ensure that no further tiger deaths occur because of tigers wandering outside Tiger reserve.
Image Used for Representational Purpose
Popular Posts
---
Follow Us
---
Recent Posts
---