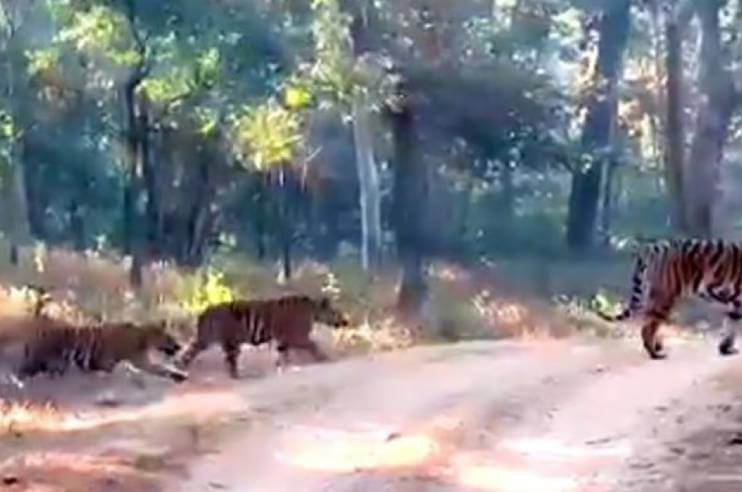 27 Dec, 2022
Viral Video Shows the Famous Tigress Roonijhuni Crossing Roads with Four Cubs in Pench National Park
Pench National Park and Tiger Reserve has emerged as one of India's most popular places for tiger sightings in recent years. It is believed that people come here with their wishes to spot the big cats and fortunately, their wishes come true. Just like that, a few days ago, visitors were thrilled to spot the famous tigress Roonijhuni with her four cubs.
Roonijhuni was seen while the visitors were having a tiger safari in Pench Tiger Reserve. At first, she crossed the road and then her cubs followed her one by one. People were amused to capture the moments and the videos are already doing rounds on the internet.
According to the Director of the national park, Rajneesh Singh, Roonijhuni was seen before with her five cubs, but this time the number has been decreased by one. He also said that the tigress seems to have made the dry area her hideout and she and her cubs are being monitored closely from the initial days.
Just to let you know, November to February is the ideal time to plan safari trips to Pench National Park, Madhya Pradesh and you can contact us any time for the details of the trips.
Pench National Park Social Media News.
Popular Posts
---
Follow Us
---
Recent Posts
---