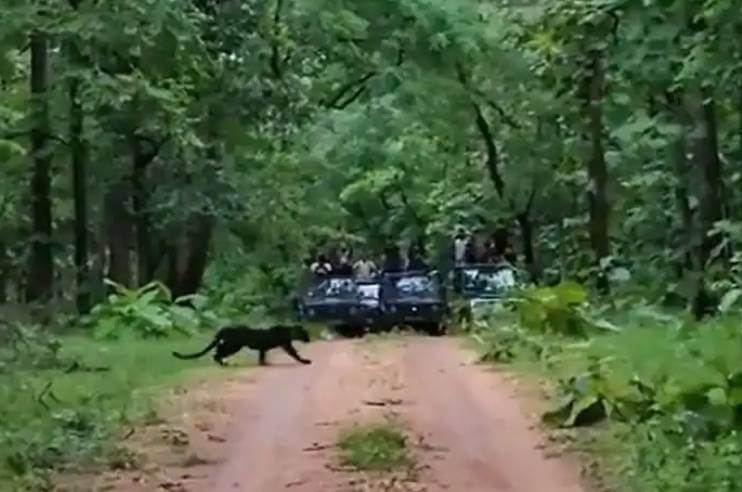 24 Aug, 2022
Viral Video: Safari-Goers Feel Elated to Spot a Black Panther, Our Own Bagheera in Pench, Madhya Pradesh
Just a few hours after posting a video of Black Panther by Pench Tiger Reserve on Twitter to encourage wildlife tourism in Pench, another chilling Pench National Park Viral Video is posted where a rare Black Panther is seen crossing the road swiftly.
Gone in a flash!! Leopards are also superfast & highly agile
Check out how swiftly our Baghera made a dash across the forest road. Video courtesy: Ms. Haritika@ChouhanShivraj@KrVijayShah@ntca_india @moefcc@minforestmp@MPTourism @MP_MyGov #BlackPanther #blackleopard pic.twitter.com/prgFYG2nnu

— Pench Tiger Reserve (@PenchMP) August 21, 2022
The video shared by Ms. Haritika, posted by the official Twitter handle of Pench Tiger Reserve is doing rounds on the internet where a rare sight of a Black Panther, which is popular as 'Bagheera' in India (the famous black panther from the book, The Jungle Book by Rudyard Kipling) is witnessed by several wildlife enthusiasts on their monsoon buffer jungle safari.
Not only this time, there is another video posted on August 19th by PTR where it shows a black panther along with a tiger sighted separately during the evening safari in Khawasa Buffer Zone in Pench. Now, there are many videos posted by the national park showing the panther being witnessed several times during the safari tours taken by the tourists in the morning and the evening also. It seems the animal has been making rounds around the buffer zone to boost Madhya Pradesh Wildlife Tourism to another level.
Taking to Twitter, PTR captioned the last viral video from Pench National Park like this "Gone in a flash!! Leopards are also superfast & highly agile." They also mentioned while posting another video that "Black Leopard is also referred as Ghost of the Jungle, coz of its colour n fiery eyes. Imagine him watching you in the darkness of night when it's body is invisible due to black colour N only it's two eyes floating in the dark."
Before the panther sightings, Pench Tiger Reserve encouraged tourists to experience monsoon safari and now, they have been also encouraging to visit Pench for spotting Black Panther at Pench Tiger Reserve. PTR now posted a compilation video of Bagheera by collecting clips from all the pictures and the black Panther Viral Video from Pench Tiger Reserve.
Meet the Elusive Baghera. A compilation of some photos n videos from last 3 days, by our tourists n naturalists.#BlackPanther#BlackPantherLegacy #pench#MadhyaPradesh @CMMadhyaPradesh@ntca_india @moefcc@ChouhanShivraj @KrVijayShah@minforestmp@MPTourism pic.twitter.com/YRWxtbzDug

— Pench Tiger Reserve (@PenchMP) August 22, 2022
Quick info about Pench Tiger Reserve
Location: Seoni District and Chhindwara District, Madhya Pradesh
Area: 758 square kilometres: Indira Priyadarshini Pench National Park, the Pench Mowgli Sanctuary and a buffer
Established in: 1965 as a wildlife sanctuary
Named after: Pench River, flowing from North to South inside Pench National Park
Reasons for popularity: Mentions in the famous story "The Jungle Book" written by the famous author Rudyard Kipling.
Wildlife in Pench National Park: Royal Bengal Tiger, Black Panther, Sloth Bear, Indian Leopard, Peafowl, Wild Dog, Jackal, Fox, Striped Hyena etc.
Safari Timings: October to June: Morning (6 AM to 11 AM) and Evening (3 PM to 6 PM). July to September: closed
Safari Zones: In Madhya Pradesh: Turia Zone, Karmajhiri Zone, Wolf Sanctuary, Rukhad Zone, Jamtara Zone, Teliya Zone
In Maharashtra: Khursapar Zone, Sillari Zone
Best time to go: October to February
Popular Posts
---
Follow Us
---
Recent Posts
---