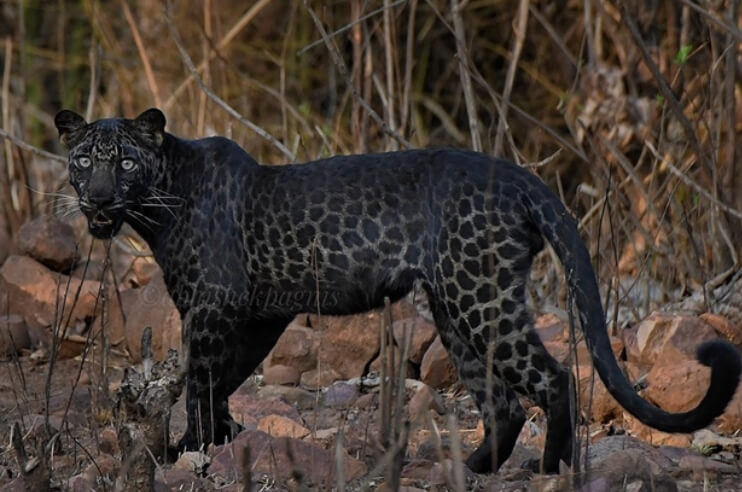 28 Jul, 2020
Photo of Black Panther Posted on Twitter Goes Viral, Leaving Netizens Fascinated!
Spotting black panthers in India is always an extraordinary experience, both because they are so few in number and for their elusive nature. Popularly lodged in the peoples' imagination as Bagheera from Rudyard Kipling's Jungle Tales, they have always fascinated children and adults alike.
Abhishek Pagnis, a student pursuing his engineering course in Pune, was treated to the extraordinary sight of the black panther during a family vacation to Tadoba Andhari National Park in Maharashtra, which is famous as a wildlife destination in India. The picture, which was shared on Twitter by Wild India, went viral and captured the attention of Twitter users who were visibly excited and overjoyed.
Spotting the Black Panther was sheer luck, says Pagnis
According to Pagnis, there was visible commotion before the black panther was spotted. He said, "The animals around raised an alarm and started making noises. When a predator animal such as a lion or tiger is nearby, prey animals like deer and monkeys let out alarm calls to alert others. This was our cue to stop our vehicles and prepare the cameras."
He went on to say that even then he did not expect to spot this melanistic leopard. However, it was clearly his day as the black panther was wandering nearby and stood just 20 feet from him & his family. He said, "We were not scared and instead were thrilled to have spotted the leopard."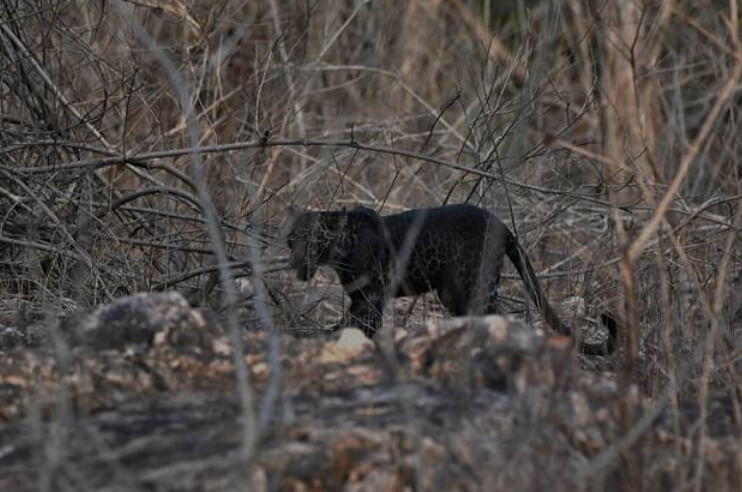 The picture was shared by Pagnis on his Instagram account with the caption, "The greatest trick the devil ever pulled was convincing the world he didn't exist."
Photograph shared on Twitter, leaves Netizens excited!
Even though the black panther was sighted in June 2019, it went viral after being shared on Twitter by an account called Wild India. The Wild India Twitter account, @WildIndia1, read, ""#Bagheera from Tadoba. This is how actually the melanistic leopard looks like. Rosettes are clear when looked from close. This beauty was captured by @abhishek_pagnis (sic)."
The tweet was liked by a lot of Twitter users and received a lot of comments from wildlife lovers and those that were overjoyed at the picture of this beautiful animal.
Best destinations in India for spotting the Black Panther
Spotting a black panther is an experience which you will cherish. If you are wondering about the best places for black panther sightings in India, here are some of the best wildlife sanctuaries to spot the black panther in India.
Dandeli Wildlife Sanctuary, Karnataka
Kabini Wildlife Sanctuary, Karnataka
Tadoba Andhari National Park, Maharashtra
Bhadra Wildlife Sanctuary, Karnataka
Sharavathi Wildlife Sanctuary, Karnataka
Nilgiri Biosphere Reserve, Tamil Nadu
Manas Wildlife Sanctuary, Assam
Periyar Wildlife Sanctuary, Kerala
Mhadei Wildlife Sanctuary, Goa
Achanakmar Wildlife Sanctuary, Chhattisgarh
Wildlife enthusiasts and nature lovers will always be surprised by the beauty and variety in Nature, the black panther being an example of that. What was your special wildlife experience? Have you ever spotted an animal, or have had a jungle safari, which left you speechless? Let us know!
Popular Posts
---
Follow Us
---
Recent Posts
---