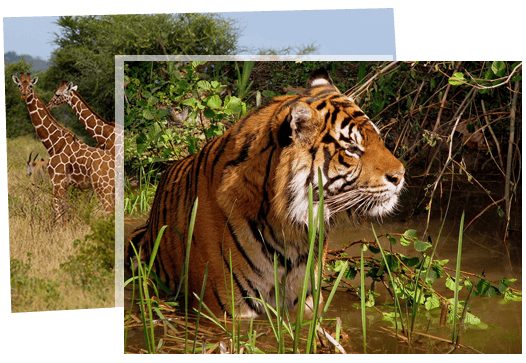 Popular Wildlife Species in Pench Tiger Reserve
Falls under the district of Seoni and Chhindwara, Pench National Park is undoubtedly one of the star attractions of Madhya Pradesh. The park is well-known for its opulent fauna. From rare to endangered to vulnerable, the park serves as a dwelling land of numerous wild species. It is famous for its ferocious Bengal Tigers that boasts a significant amount of tourism in the park. At present, there are around 50 tigers residing in the prey-rich woodlands of park's region. Besides this, the park also has 39 species of mammals 13 species of reptiles and 3 species of amphibians.
Most commonly found prey species in Pench National Park include Indian wild dog, jungle cat, wild boar, chital, jackal, hyena, and wolf. Deer, rhesus macaque, langur, gaur, sambar, and bison can also be seen in the herd in the forest. In total, there are more than 210 species of bird in Pench National Park. Amongst these species around 170 species comprising various migratory bird. Peafowl, crow pheasant, red-vented bulbul, Indian roller, magpie robin, wagtail, myna, munia, and minivet are just a few names in the list of birds in Pench National Park.