Nagzira Wildlife Sanctuary
Serving as the Green Oasis of India with high vegetation, Nagzira Wildlife Sanctuary is situated in the eastern part of Maharashtra, India.  It was in the year 1970 that the forest area of Nagzira was declared a wildlife sanctuary. With the coming of the year 2012, the Government of India ordered it to merge with a national park so that it could become a part of the Save the Tiger project. Home to exotic flora and fauna, this wildlife sanctuary has lured tourists from around the world who love to be close to nature. Moreover, the comforting natural environment for the fauna is quite appreciable and that is the sole reason why this place is home to such a large variety of wildlife like Indian wild boar, Mouse deer, Sambar deer, Bengal tiger, leopard, chitkul and much more. The wildlife sheltered under the wildlife sanctuary ranges from mammals to reptiles along with a wide variety of birds.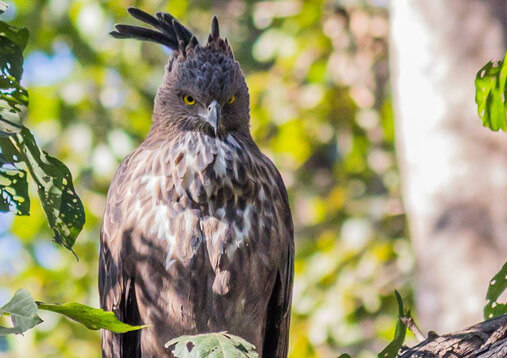 Flora & Fauna
The rich fauna of this sanctuary ranges from endangered mammals to reptiles. You will like to know that the sanctuary has 166 Avifauna Species, 34 mammals species, 36 reptile species and 4 amphibian species. Mammals include species of Small Indian Civet, Sloth Bear, Indian Gaur, Panther, Common Giant Flying Squirrel, Ratel, Four-Horned Antelope, Palm Civet, Bengal Tiger, Mouse deer, and Pangolin. Apart from mammals, the sanctuary is also home to various reptiles and amphibians species like Indian Cobra, Tree Frog, Checkered Keelback, Indian Rock Python, Common Monitor, Russell's Viper, Six-toed Frog, Dhaman, Ramanella Montana and Bullfrog and along with these beautiful species, the sanctuary is famous for its avifauna. The park is filled with 166 species of birds which consists 15 species of migratory birds, 13 species of endangered and 42 species are local migrants. Apart from them, a winter migrant and a local resident of Ladakh and Tibet- Bar-headed Goose, pay a yearly visit here. These birds are the major tourist attraction and add a beauty factor to the sanctuary. The birds find a home in the lush greenery of the park and it is maintained by some very special species of trees like Mahua, Bamboo, Jamun, Ain, and Bombax. Complimenting them are Grasslands, Weeds, and Teak Forests. Though this sanctuary does not contain endangered flora but it surely contains 200 species of medicinal and economic importance.
Best time to visit Nagzira
Like most of the wildlife sanctuaries in India, Nagzira too remains opens just for two seasons, i.e., summer and winter. The sanctuary operates from October 1st to June 15th and remains closed rest of the time, which means from 16th June to 30th September.
Summer

20° – 45° March To June
Commencing in the month of March, the summer season in Nagzira Wildlife Sanctuary is subjected to hot and humid climate conditions. Despite the hot weather, the season is considered as the best time to visit Nagzira Wildlife Sanctuary for tiger sightseeing. From the month of March to May, the probability of tiger sighting is high as compared to other seasons.
Winter

7° – 26° November To February
Another ideal season to visit Nagzira Wildlife Sanctuary is winter. The cold and pleasant weather during the season marks a heavy footfall of wildlife buffs. Such a comfortable weather makes it easy for the visitors to explore the park to its fullest without getting exhausted by the hot and humid temperature.
Monsoon

32° – 36° July To September
Monsoon season is not at all an ideal time to plan a wildlife tour to Nagzira Wildlife Sanctuary. During these months, the park remains closed on the account of high rainfall. Another reason of park being closed during this is that the monsoon also marks the breeding season for wild animals.
How to Reach Nagzira
Travelling to the wildlife sanctuary can be quite tricky since it does not have a direct connectivity. To be a spectator of the beautiful nature and wildlife, the best ways are mentioned below:
The nearest airport is Nagpur Airport which is 160 km from the Nagzira Wildlife Sanctuary. The nagpur airport is a domestic airport and has well airline connectivity with the other major cities of the country. Once you get off at airport, you can hire a taxi for the sanctuary. Mumbai Airport is an international airport and is the best choice for international tourists.
The sanctuary is distanced 22 km from Sakoli on NH-6 (Mumbai-Kolkata). Nearest bus stands are Sakoli and Tirora and if you are travelling by your vehicle, Sakoli town is on the Raipur-Nagpur highway.
Nearest railway station is Tirora Railway Station (19 km), Gondia railway station (45 km), and Bhandara railway station (75 km). The best way reach the sanctuary while travelling by train is to hire a taxi from the railway station.